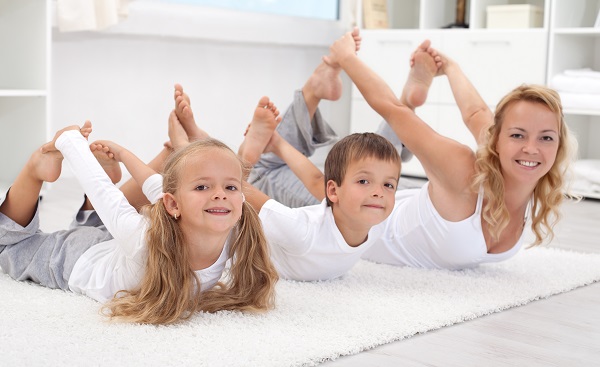 This restoring, renewing, simple and natural bonding activity allows families to connect to themselves and each other in positive, fun and inspiring ways!
Rishma has been teaching children and families Yoga for 8 years.  She is a registered, senior level Yoga Alliance Teacher, and Yoga Therapist with special training and experience in child development, anatomy, and psychology. 
Rishma's relaxed yet passionate approach to teaching Yoga makes it super-easy to learn, even for the youngest bodies and minds in the family.
Family Yoga incorporates a variety of Yoga Poses, Mindfulness Training, Fun Games, Relaxation Techniques, Music, and Mantra.
In these sessions the family as a whole will learn invaluable techniques and skills to fully grow their confidence and harmony both within themselves and with each other.
Families who enroll in these programs report a noticeable increase in deep restful sleep, greater energy levels, improved memory, positive thinking, enhanced flexibility and greater overall motivation and inspiration in daily life.
We love Family Yoga! It has become a very important part of all our lives and look forward to each week with Rishma. We truly Rishma-in the Good Energy.  – Leslie Giddens Zuker

Rishma transforms your living space into an oasis of calmness, creativity and positive energy that lasts even after she leaves the room!
More than anything, it is about celebrating authentic, joyful,'quality time' with family members and witnessing how powerful that increase in connection is to your own happiness.  – Rishma